Wood burning, also known as pyrography, it's the art of designing on wood using a controlled source of heat. It's a very old craft, probably as old as fire itself and has also been used on other materials like leather and rocks, just think of the old decorated caves!
Wood burning ideas have evolved with time, as did the tools of this craft, and today's artists count with a variety of options that make pyrography art unique and personalized. And also quite easy to get started with!
There is evidence that the art of wood burning was around at the time of the Egyptians, and objects crafted this way were also found in China. In both cases, the patterns designed on the wood were extremely complex and rich, even though the tools used to make them were probably quite rustic.
Today, artists and aficionados count with a wide variety of tools that allow them to create different effects and brushstrokes, just by adjusting or changing the pressure on them. The most popular tool for pyrography today is the wood burning pen that allows experts and beginners to work on easy wood burning ideas.
We will walk you through everything you need to get started into the wood burning world, as well as some of the best ideas to create your own pieces of art. The possibilities are endless and just limited by your own imagination.
What do you need to get started?
Wood burning pen
Tape and carbon paper
Sandpaper
Stencil or design
Paper towels and a bowl of water
Appropriate support (wood)
Let's discuss the tools and types of wood you need to get started with wood burning, as well as what you need to guarantee your safety while working with them.
Supplies
Probably, the most important tool you need to get into pyrography art is a woodburning pen. There are many different types and you can personalize them by getting different tips and cases. Prices may start as low as 10 dollars and go up to hundreds, so make sure you choose one that is good for your level of expertise and abilities.
The pen looks like a metal screwdriver with a handle that doesn't heat up and exchangeable tips that are the ones that actually get hot. The point of having different tips is to be able to create different brushstrokes on the wood, finer lines or thick round ones. The pens are very simple and comfortable to use so it feels like you are using a pencil on wood.
Well, maybe not exactly the same as a pencil. There is a particular aspect to wood burning crafts: you need to go slow and let the wood burn using the right pressure and allowing yourself the necessary time. This is why many people talk about wood burning art as an activity that is relaxing and used to control stress.
Other supplies you need to prepare your support and get started include tape and carbon paper, the stencil or design you want to make on the wood, some paper towels, and a bowl with some water will help too.
Safety
It's important to be mindful of safety when working with tools like the wood burning pen. Because it needs to be hot to work, it's not a good idea to let children work on this craft unattended or unsupervised. But the same counts for adults, the tips get hot!
Remember to wait 5 minutes to change the tip of the pen and let it cool down. You may also help yourself with tongues or heat gloves
Be aware of where you put your pen since you don't want to burn your working table. Most pens come with a metal holder where you can always put the pen when not using it.
Also, if you see that there is a lot of smoke, it means that the pen is too hot and you may want to adjust the temperature. A bit of smoke is fine, but it should be clean and clear.
It's also advisable to wear a mask while doing pyrography art.
Choosing the wood
Any type of wood can be used to do wood burning, but most pyrography ideas work very easily on pine. The first step is to sand the wood very well and keep in mind that it's easier to burn following the grain of the wood than working against it. Sanding it will help you understand your support wood better and choose the right design for it.
It's common to use light colored wood since it creates a strong visual effect. The best ones are beech and birch, but oak, maple and walnut are also good options. Some people choose first the design and then the wood, but it can also be done the other way around. If you look at the wood, you may see knots and lines that will inspire you to create a unique piece of art.
Think also about the shape of the wood you're using, the knots and lines, its color, and the design you want to create. Combining an interesting shape of wood with a beautiful design can really make a meaningful piece of art.
Easy wood burning ideas
Home décor
Wall art
Photo frames
Cooking utensils and cutting boards
Christmas decorations
Clocks
Tables
Door signs
Once you have your pen and the wood you want to work on, it's time to get started with some easy wood burning ideas!
For complete beginners we recommend using stencils, but some creative people prefer to design their own original pieces of art with carbon on the wood.
A lot of people love creating wood burning pieces to decorate their homes, adding a rustic charm to their everyday spaces.
Among these projects we can mention popular signs with motivational phrases. These are easy to make once you find the calligraphy you like, and they are very decorative. It's also a good way to get started in the world of wood burning since the designs are easy, quick and will give beginners the necessary practice to face more challenging projects in the future.
But when we are talking about home décor we can see the potential of pyrography art in many other objects, from tables to clocks and even coasters. You can give your own personal touch to everything, giving your home your own personal touch.
A beautiful aspects of wood burning is that you can personalize your pieces of art, adding the names of family members or dates. This makes this craft an ideal one to create souvenirs and personalized gifts that carry a lot more meaning and sentiment.
Among the most popular choices when talking about objects for the house are cutting boards with personalized names or phrases, wall decoration that's completely unique, cooking utensils, art pieces, and wooden frames for photographs.
Our favorite wood burning ideas
Christmas ornaments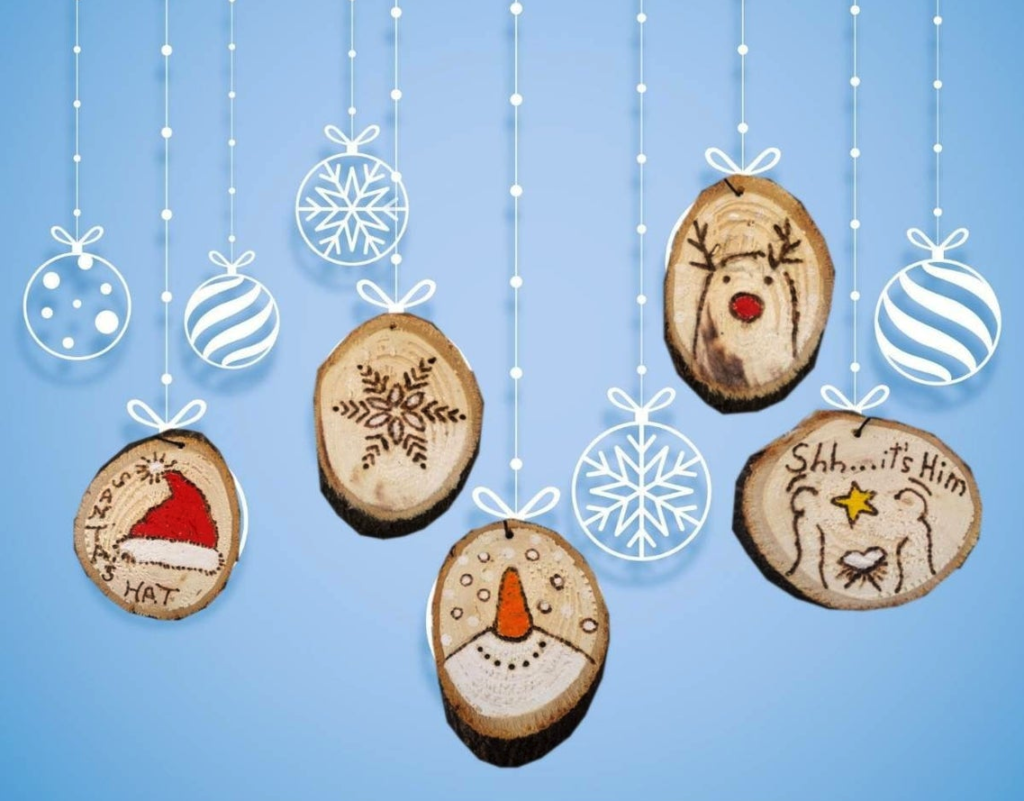 Why not decorate the Christmas tree with hand-made ornaments? You can add the names of your family members and create unique pieces that will make your holidays seasons unique and completely personalized.
It's quite easy to find the wood already prepare for this task, and remember that you can also combine it with colors and accessories.
Buttons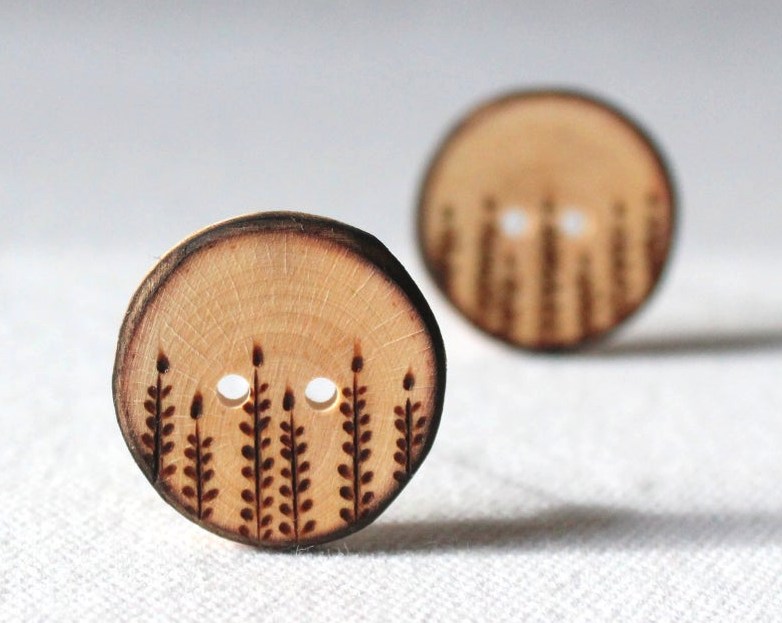 Are you thinking of changing your wardrobe into something different? Tired of the same old clothes? Give them a fresh start adding compliments and buttons that can be worked with pyrography to make them unique. You can change a piece of clothes completely just by adding a bit of your own creative touch.
Picture frames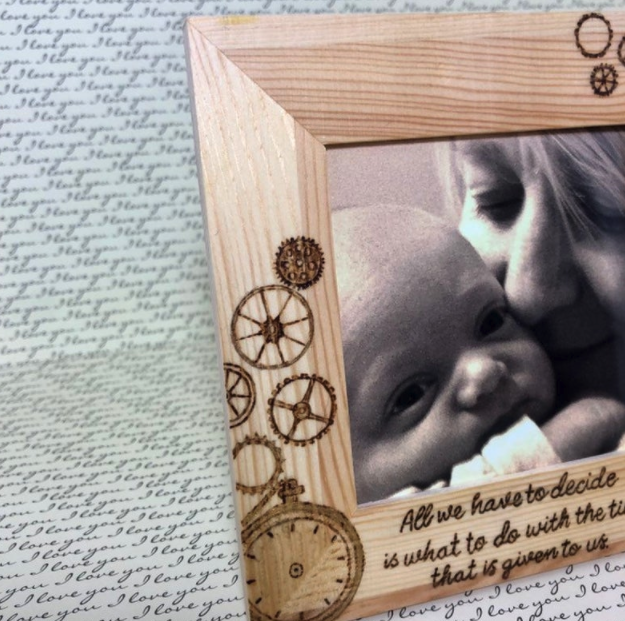 If you love having pictures in frames to honor all the beautiful moments in your life, having them personalized with a touch of wood burning can make them more especial even. Wood burning allows you to create unique frame, adding names, dates, events. It can be an especial touch in your house, but no surprise it would make a lovely gift for a friend.
Labeling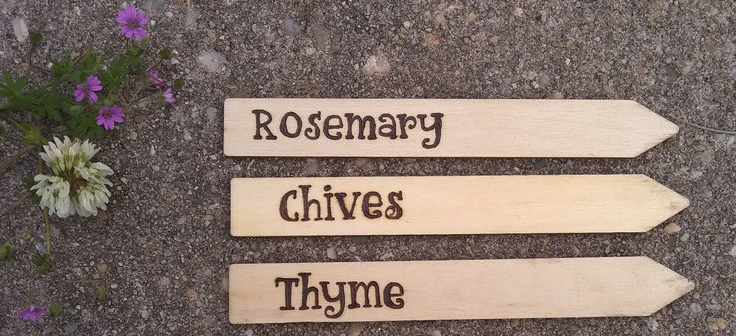 Label boxes is one of the favorite uses of wood burning for beginners. You can give them a rustic touch while making it easy to know what's inside. A great idea in the kitchen for a tea bag box, a tissue box, or a recipe box.
You can also decide to make signs to hang on doors with the name of your children, or create some interesting design to put on the bathroom door. You can label your kitchen cabinets or drawers too. The options are unlimited!
Art and decoration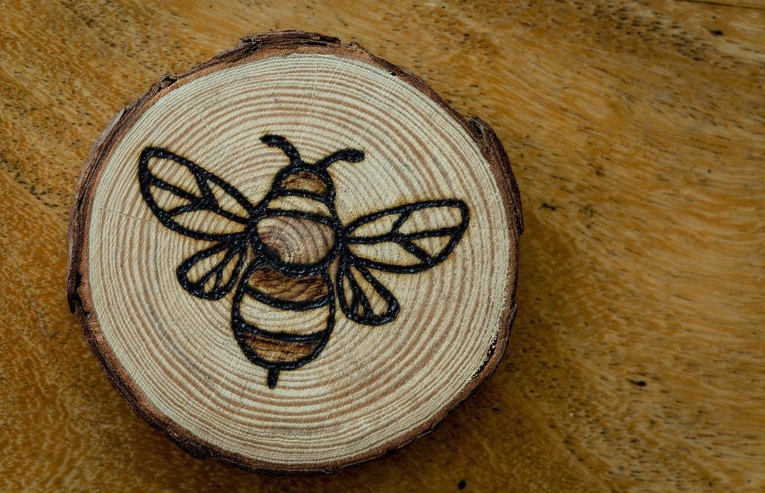 Every piece made by wood burning is a piece of art and that offers a million possibilities to play with the style of your house and create unbelievable pieces that you will love. Let your imagination run and be creative!
What are your wood burning ideas? What pieces would you like to try and make? Remember that this is art and as such is completely unique and subjective, so whatever you decide to make, it will be an expression of your inner self. And that's beautiful.